UCSC Alumni LA Chapter
1999 UC Sea of Cortez Baja Trip
Pictures from the Baja Trip
Barry's Sea of Cortez web page
What to Bring on this Trip
Itinerary: 5 days, 5 nights
July 20, 1999 (Tuesday):
Depart LAX at 4:05 p.m. on Aero California to La Paz, Mexico, snack in flight. Ground Transportation to the Don Jose, our 80 foot chartered motor vessel. Accommodations on board the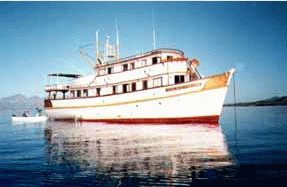 Don Jose include 7 air conditioned cabins for 20 passengers, each with a changing area, storage closet, adjacent shower and head, plus a sink in most. The ship has a VHS video system and natural history library.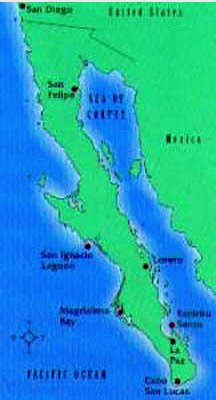 July 21, 22, and 23:
Three full days of island-hopping in the Sea of Cortez, scuba-diving for certified divers, snorkeling, hiking, and kayaking. Professor Barry Sinervo together with our captain and four (4) crew members will be on hand as we explore the exotic wonders of the area. An optional reading list will be provided upon request.
July 24 (Saturday):
Return to La Paz at 12:00 noon. Time to relax and explore La Paz. Accommodations at the Hotel Los Arcos, 2 guests per room. A single supplement is available upon request. Dinner, not included, at La Paz.
July 25 (Sunday):
8:50 a.m. flight, La Paz to LAX on Aero California.
Trip Fee:
The Trip Fee of $750.00 includes:
round trip coach air transportation from LAX to La Paz,
four nights accommodations upon the Don Jose,
one night hotel at La Paz, and
all meals on board the Don Jose,
including beer, wine and soft drinks.
Vegetarian meals are available on board the Don Jose.
The trip fee does not include:
Saturday evening dinner in La Paz,
Sunday breakfast and
transportation to the airport on July 25, 1998.
Scuba equipment is available for rental in La Paz.
Payment Policy:

An initial $350.00 deposit is due on or before December 15, 1998.
The balance of $400.00 per guest is due by April 1, 1999.
Payment may be by check made payable to the L.A. Chapter of the
Santa Cruz Alumni Association or by credit card by calling 
1-800-933-SLUG (Mention the UC Sea of Cortez Trip).

We must book twenty (20) persons on the boat to keep the trip
economical for all.  A suggested minimum age is 14.  A
cancellation fee of $50.00 will be charged before January 15,
1999.  Afterwards, deposits are non-refundable although we will
attempt to have a back-up waiting list and if we can re-book the
boat and air portion of the trip, we will return the deposit less
$50.00.  Trip insurance (covering illness and death) is available
for approximately Thirty-Nine Dollars ($39.00).



Reservation Policy:



To reserve your space (space is limited to the first 20 Slugs and
friends) fill in the accompanying form and return to:

   Ken Feingold, 
   Feingold & Spiegel, 
   11340 W. Olympic Blvd., Ste. 175,
   Los Angeles, CA 90064-1662, 

together with your check in the amount of $350.00.  If you pay 
by phone, you may fax your reservation form to 310-477-7248.  
We need:

your phone numbers,
fax numbers and
e-mail addresses
so we can send additional information. Upon receipt of your deposit, we will send additional information including trip insurance information, a clothing and gear list and other useful information. A passport or certified birth certificate and photo I.D. will be required for the trip.
Liability Stuff:
A release of liability form must be signed by all participants prior to the trip releasing the L.A. Chapter of the Alumni Association, our friends the Regents of University of California and Baja Expeditions from liability for the trip.
Additional Information:
For additional information, contact: Ken Feingold kaf@fandslaw.com or 310-477-7007 You may also visit Baja Expeditions at www.bajaex.com. Some Sea of Cortez web sites:
Girl of the Sea of Cortez by Peter Benchley
Sea of Cortez Guide by Dix Brow
Island Biogeography in the Sea of Cortez by Ted Case(Editor)
The complete cruising guide to the middle gulf, Sea of Cortez by Gerry Cunningham
With Steinbeck in the Sea of Cortez by Sparky Enea, Audry Lynch
Tidepool Wonders of the Sea of Cortez (Gulf of California) by Wesley Farmer
Mexico's Copper Canyon to the Sea of Cortez by Richard D. Fisher
The National Parks of Northern Mexico : A Complete Guidebook to Mexico's Copper Canyon, Sea of Cortez, Baja, Sierra Del Carmens and Northeastern nature by Richard D. Fisher
SEA OF CORTEZ MARINE ANIMALS - A Guide to the Common Fishes and Invertebrates Baja California to Panama by Daniel Gotshall
Sea of Cortez Marine Invertebrates : A Guide for the Pacific Coast, Mexico to Ecuador by Alex Kerstitch
Baja : a special expedition to Baja and the Sea of Cortez by Sven-Olof Lindblad
Cruising Guide to the Sea of Cortez : From LA Paz to Mulege by Simon Scott, Nancy Scott
The Log from the Sea of Cortez by John Steinbeck, et al
Sea of Cortez and Other Plays by John Steppling
Sea of Cortez by Sunset Editors
Reef Fishes of the Sea of Cortez : The Rocky-Shore Fishes of the Gulf of California by Donald A. Thomson
Baja Boater's Guide : The Sea of Cortez : The Definitive Guide for the Coastal Waters of Mexico's Baja California Vol 2 by Jack Williams
ChartGuide Mexico west : Baja California, Sea of Cortez, and mainland riviera : all shoreline, islands, harbors, and coves to Guatemala
Order your book from Amazon.com.
---
1999 UC Sea of Cortez Baja Trip
Reservation Form
(complete for each passenger):




Name:
                                   College Affiliation and Year
Address:



Home Phone:
                                   Special Areas of Interest

Work Phone:                        (i.e.,  scuba, hiking,
                                   kayaking, etc.)
Fax:

E-Mail:
                                   Special Dietary Needs


Method of Payment:  _____ Check

                    _____ Charge Card

webmaster: franz@acm.org
Copyright © 1999 Fran Zandonella
All Rights Reserved